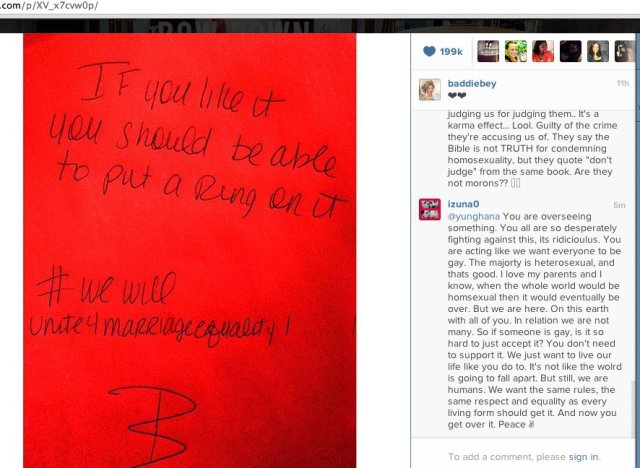 Singer and actress Beyonce join the league of celebrity stars that as show support for same -sex marriage, Singer and actress Beyonce wrote on her Instagram account yesterday (Put a Ring on It)" songstress wrote, "If you like it you should be able to put a ring on it #WeWillUnite4MarriageEquality " on a red sheet of paper. Beyonce and the likes of other celebrity stars such as Madonna, Sophia Bush, Patrick Stewart, Sara Bareilles, Jesse Tyler Ferguson, Ben Affleck, Brendon Ayanbadejo, Cindy Crawford, Russell Simmons, Shonda Rhimes, Seth McFarlane, Ricky Martinshow support for same-sex marriage.
President Barack Obama also
tweeted a picture
on March 27 urging America to "reach up and close that gap" in regards to marriage equality.